Oh man, oh
man,
 I wish I'd heard of this a month ago.
While perusing Facebook (the blessing and curse to all our lives), I found mention by
Postcrossing
, which I subscribe to, about a blog entry
centering on letter-writing
. Well, I love writing letters! or, I did before I got lazy, and I also like to blame it on how other people don't write back but, really, if you're dedicated to writing letters, others' responses should not matter. Yes, it'd be nice to hear from other people, but my values are not theirs, and apparently I'm not worth 20 minutes and the latest Forever stamp.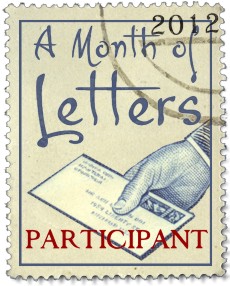 So the above blog-author (or
blauthor
) touched on how difficult it was to get into, the letter-writing process, but after diligent application and persistence she gathered momentum. Indeed, she came to enjoy it as an exercise and a pastime, and her letters got longer and longer.
That's wonderful,
 I thought,
but why is an average citizen so driven to pour time and effort into a hand-written letter?
 I did it because the electricity in my building went out for two days. I sent out 40 postcards and letters to everyone in my address book, that's how restless I got.